why choose bamboo for your little one?
In your quest to find nothing-but-the-best products for your little one, you've probably come across bamboo fabric. Bamboo has been making waves in recent years, and let us be the first to tell you that it's a trend that's here to stay.
The benefits of bamboo fabric put it a cut above the standard cotton and polyester blends found in most baby clothes. It's softer, more durable, and sustainably made. It doesn't really get better than this.
We're not saying that the invention of bamboo fabric is just as life-changing as disposable diapers or breast pumps…but we wouldn't disagree if you thought it was a close second.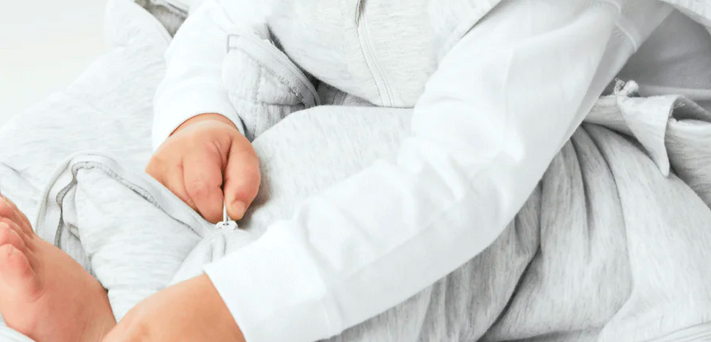 Bamboo Fabric Benefits
We could go on and on and on about the benefits of bamboo fabric, but we'll stick to our top six favorites.
ONE: unmatched softness
You know the saying "soft as a baby's bottom? We think everything that touches" your little one's skin should be that irresistibly cozy. Bamboo fibers have a natural element called pectin and have a smooth, round structure that makes the fabric exceptionally soft and comfy.
TWO: ultra-durable 
Bamboo holds its shape incredibly well, even after frequent washing. This allows the fabric to withstand the rough and tumble of daily baby life, ensuring that their clothes can endure the countless adventures, spills, and messes that come their way.
THREE: non-irritating & gentle
Made from natural materials that are grown without the use of chemicals, bamboo fabric is gentle on sensitive skin and won't cause any irritating reactions or allergies. So, your LO will stay snug as a bug without any discomfort.
FOUR: organic and non-GMO
Due to the antibacterial properties of the bamboo plant, there is no need for the use of pesticides or fertilizers when harvesting bamboo. This means bamboo yarn is 100% organic as well as being non-GMO
FIVE: sustainably made
Bamboo is an eco-warrior. It flourishes with little water and no pesticides – it practically grows like a weed (and a fast one at that). With fewer resources needed to produce bamboo, you can feel good about buying baby clothes made with bamboo fabric.
SIX: temperature regulating
No more stressing if baby is too hot or too cold. Bamboo fabric's breathability and moisture-wicking abilities are perfect for warm weather,  and thanks to thermoregulating properties, it also helps keep your nugget cozy during the winter months.
super soft
breathable
non-irritating
sustainable
durable
uv protection
Choose Bamboo For Your Little One
Bamboo viscose is created by soaking the pulp of the plant and spinning that material into threads that create the luxurious bamboo fabric – but not all bamboo fabric blends are created equal. Gunamuna's baby apparel uses a specially-made, soft bamboo viscose fabric with 5% spandex for a little extra stretch. Our clothes last you far longer than the standard 3-6 months you've come to expect and they look good while doing it. 
Rest assured, all gunamuna products are OEKO-TEXⓇ STANDARD 100 Certified. Every part of our garments— each thread, pull, and zipper— has been rigorously tested to be free of harmful substances like irritants and toxins. You can have peace of mind knowing that you're dressing your baby in only the best, and their skin will love you for it.
Good for the earth and great for your little one, bamboo fabric benefits make it the easy choice for all your baby clothes and accessories.