gunamuna vs kyte baby: which sleep bag is right for you?
Your baby wants to stay comfy cozy while they sleep, and you want them to stay snug so everyone can get some real rest. Obviously. Both Kyte Baby and gunamuna sleep sacks are meant to deliver a better night's sleep for your babe, but not all sleep bags are the same. Weigh the pros and cons of gunamuna vs Kyte Baby to see for yourself.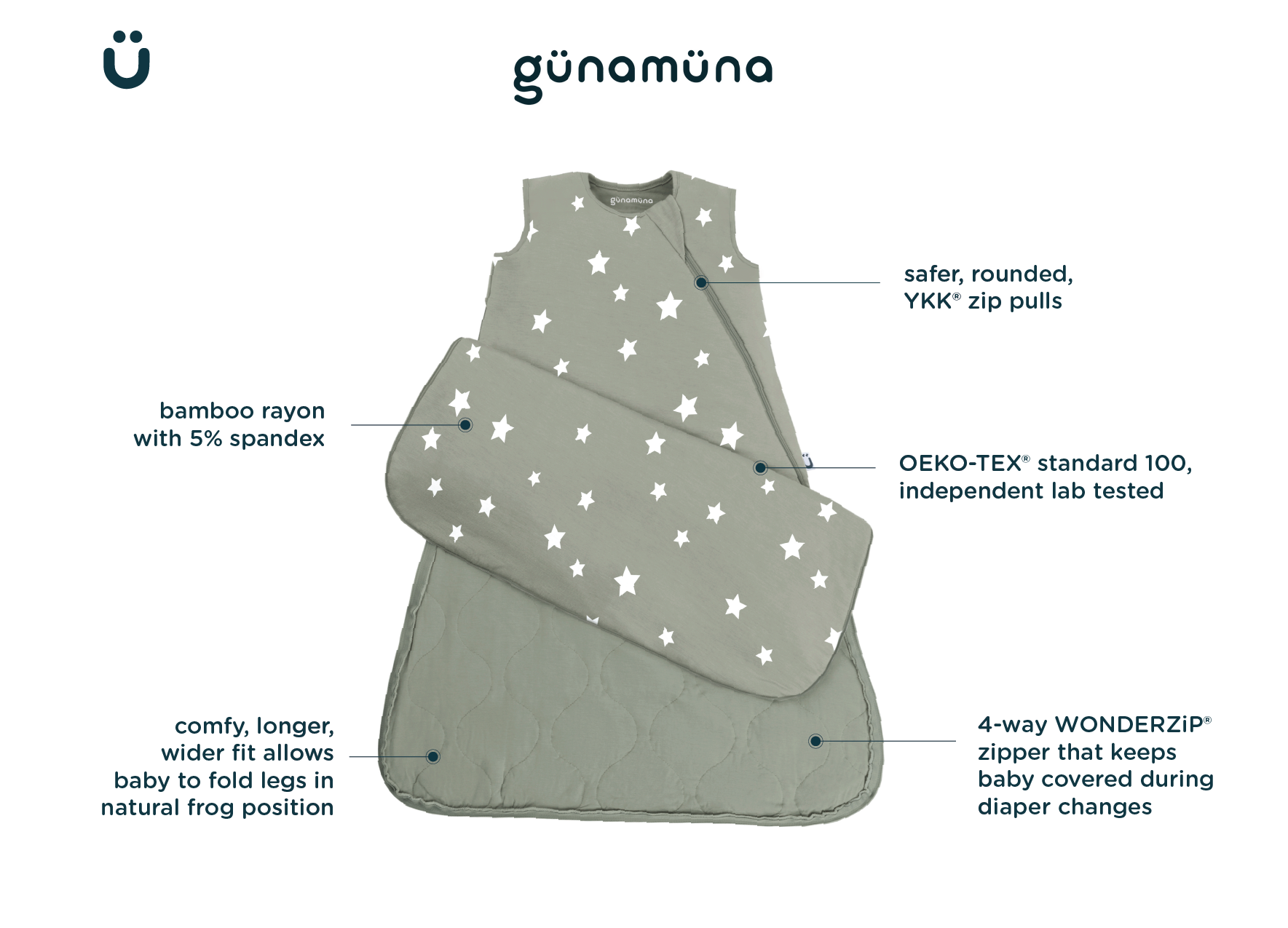 | | | |
| --- | --- | --- |
| | | |
| Zipper keeps baby covered during diaper changes | | |
| Wide fit allows for hip-healthy frog position | | |
| 0.5, 1.0,and 2.0 TOG weights to suit every nursery temperature | | |
Compare Kyte Baby and gunamuna Sleep Bag Designs
Choose Your Comfiest Style 
Gunamuna sleep bags mimic a calming hug from shoulder to toe for a full-on cuddle. Our sleeveless and long-sleeve options are longer and have a wider fit so your little one can sleep with their legs folded in a natural frog position or kick to their hearts' content. Plus, the all-over extra wiggle room keeps baby comfortable all night long – and we know when baby is comfy, they sleep better (and longer).
Like the gunamuna sleep bags, Kyte Baby sleep sacks also offer a well-distributed weight to help keep baby comfy for sleep. Kyte Baby's sacks have a narrower fit and come in only one style: sleeveless.
Easy Access for Diaper Changes
Gunamuna sleep bags have one 4-way, all-around WONDERZiP® zipper that opens up completely from the bottom so you can change your baby's diaper without uncovering or undressing. Keep their top half covered and you can both get back to sleep faster. And if your little one runs hot, leave the bottom unzipped to keep them cool during nighttime or naptime. 
Unlike gunamuna, Kyte Baby sleep sacks have 1 J-shaped zipper and 2 zip-pulls: one that zips from the neck down and one that zips across the bottom. So while Kyte's sleep bags allow you to change baby's diaper with the sleep sack technically still on, it has to be completely opened and leaves your little one uncovered during diaper changes. 
Fabric and Zipper Quality Matter
A Trustworthy Zip Makes a Big Difference
No mystery zippers here. Gunamuna only uses YKK zippers – the same ones trusted by high-end designers to be sturdy, non-pinchy, and never get stuck at the most inopportune times (like while you're trying to do a sneaky midnight diaper change). The rounded zipper pulls tuck neatly into special pockets to stay put all night.
Kyte Baby uses a generic zipper from China, so we can't say how sturdy they are. The pulls are rectangular, too, and the edges might poke your sleeping baby.
Breathable Bamboo Fabric
Bamboo is awesome. Not only is it a sustainable plant-based fabric, but it's also hypoallergenic, breathable, moisture-wicking, machine washable, and oh-so buttery soft. Gunamuna uses a bamboo viscose blend with 5% spandex to keep going strong as your baby grows. Plus, the hypoallergenic microfiber fill will remind you of the feel and insulation you get from your favorite luxury down. 
Both Kyte Baby and gunamuna use a bamboo blend to give your baby the comfiest sleep bag possible. The difference is that their fabric is made of bamboo rayon with 3% spandex that offers a little less stretch.
Safety Comes First
Let's get serious. Your baby's sleep safety is absolutely non-negotiable, and gunamuna makes it top priority. Gunamuna sleep bags are OEKO-TEX Standard 100 certified (so you know it's free of toxic chemicals) and rigorously tested by a leading Juvenile Product Manufacturers Association (JPMA) certified lab to exceed infant sleeping safety standards. Because we want our sleep bags to go above and beyond the standard, gunamuna bags are Certified Pediatric Sleep Consultants Approved and Used, certified hip healthy by the International Hip Dysplasia Institute, and have earned a First Candle Safe Sleep Award.
Kyte Baby's OEKO-TEX Standard 100 certification ensures their fabrics are all free from toxic chemicals and irritants. 
Compare Baby Sleep Sack Options
Choose the Ideal TOG and Warmth
Babies are not great at regulating their own body temperature, so you need to choose the coziness level that makes sense for your baby's sleeping environment. TOG, for the uninitiated, stands for Thermal Overall Grade and indicates how warm and insulated the bags are. 
Gunamuma offers sleep bags in three TOGs: 0.5, 1.0, and 2.6. Kyte Baby also offers 3 TOG options: 0.5, 1.0, and 2.5. 
A Rainbow of Colors and Pattern Choices
Gunamuna carries 20 solid and print designs. Kyte Baby offers a bit more variety when it comes to colors and patterns and drops seasonal releases more often.
Kyte Baby vs gunamuna Sleep Sack Sizing
Instead of going for quantity, gunamuna is dedicated to giving your baby the perfect sleep bag. Choose from 5 sizes: newborn swaddle, 3-9 months, 9-18 months, 18-24 months, and 24-36 months. 
Kyte offers height and weight-based sizing that translate to XS, S, M, L, and XL baby sleep sacks. In general, Kyte Baby sleep bag sizes tend to cover a wider range, while gunamuna's size spread offers a more tailored fit for each age group.
It's the Little Things That Matter
After safety, the most important feature of any quality sleep bag is a smart design that makes your life easier. But we took it a step further and added extra zipper covers, long sleeve options, a wider fit for kicky baby legs, and a 4-way zipper for the easiest nighttime diaper changes. Like ever. In other words, we want to give your baby the best sleep of their young life – so you can finally get some rest.